How do super-massive black holes affect their host galaxies?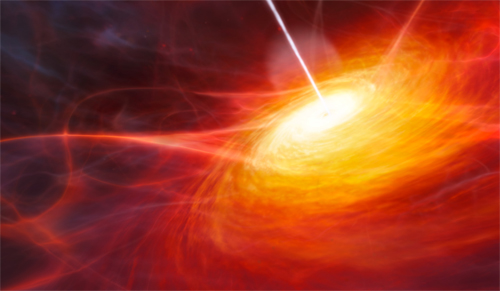 My research explores the evolutionary link between galaxies and their central supermassive black holes. Specifically, I examine "active galactic nuclei", or AGNs, where material falling onto the black hole produces an enormous amount of light across the entire electromagnetic spectrum. By examining "obscured" AGNs, where central dust blocks a large amount of this AGN emission, I can look at their host galaxies to explore how the AGN emission can affect star-formation and gas dynamics.
To explore AGN host galaxies, I focus on optical and near-infrared spectroscopy, where I can examine the light as a function of wavelength to see how AGNs can ionize and disturb gas. My graduate thesis focused on AGNs at high redshift, while my postdoctoral research has centered on the search for nearby obscured quasars.
Selected Publications
We demonstrate the difficulty in finding AGNs in dwarf galaxies using mid-IR selection techniques trained on selecting more powerful quasars. With this in mind, we present a carefully selected sample of possible AGN dwarf galaxy candidates.

We present the results of an optical spectroscopic survey targeting obscured quasars, including the redshift distribution, optical emission line properties, and SED modeling results. Our results confirm the efficacy in selecting obscured quasars by their WISE colors.

Narrow-line region sizes for a sample of 30 obscured quasars are derived. While these objects provide further strong evidence for a flattening of the relationship between NLR size and AGN luminosity, special attention is paid to the effects of atmospheric seeing on ground-based NLR size measurements.

An examination of the size of the narrow-line region for a large sample of active galaxies as a function of AGN luminosity is presented. We find that while there is a steep relationship between NLR size and AGN luminosity (as traced by IR photometry), there is a flattening of the relationship at the high luminosity end such that we may be seeing the physical extent of the NLR in luminous quasars.

The host galaxy stellar populations for 33 UV-selected z~2-3 AGNs, selected from the LBG survey, are discussed and analyzed. The host galaxies are massive, with high stellar ages and SFRs as compared to the non-active LBGs, although their properties are essentially identical when controlling for stellar mass, implying that the AGN is having little effect on galactic star-formation. An observed relationship between CIV line luminosity and host galaxy stellar mass can be understood as demonstrating that black hole mass and galactic mass are linked at z~2-3.

A Rest-frame UV composite spectrum was created and analyzed for the UV-selected AGNs. The composite spectrum is compared to a composite for non-AGNs from Shapley et al. 2003, and high velocity (~850 km/s) outflows are shown for highly-ionized gas. These results represent the first such comparison at high redshift between star-forming galaxies and similar galaxies that host AGN activity.

Rest-frame optical spectra are presented for three strongly-lensed star-forming galaxies, the Cosmic Horseshoe (z = 2.38), the Clone (z = 2.00), and SDSS J090122.37+181432.3 (z = 2.26). The magnification allows for a measurement of a full complement of high S/N rest-frame optical emission lines, which can be used to calculate metallicity and ionization state of the gas in these galaxies.